Standing at 7'7," which tied him in height as the tallest player in NBA history, Manute Bol was a towering figure, even by professional basketball standards. Scoring against Bol without getting one's shot blocked could prove to be a complicated endeavor for most players against the sky-high Sudanese native — but slam dunking on him? That would be an especially Herculean task, and one that invigorated Boston Celtics' legend Larry Bird to start the Manute Bol dunk bounty.
According to former Celtics player Bill Walton, who joined the championship Celtics team in 1985 and related many of his memories playing with Bird, Kevin McHale, Robert Parish and other players from the championship team in his memoir, "Back From The Dead," the Manute Bol dunk bounty all started with a blocked shot.
"None of us had ever heard of him before," Walton said, recalling the first time the Celtics faced Bol, then a member of the Washington Bullets. "But Larry warned that whatever happened tonight to make sure that Manute didn't block your shot, because if he did get you, ESPN and SportsCenter, still in its infancy, would never let anybody forget."
At one point during the game, Walton shot the ball in wide-open fashion from the left wing, hoping to score an easy bucket, when all of a sudden, Bol "elongate(d) effortlessly" to swat the ball out of the air and back onto the sidelines.
"Larry went wild, and to this day he has never let me forget it," Walton said. "Later, Larry called us all together and said that we all had to put $100 into a pool, and that the first one to dunk on Manute would get all the cash — $1200."
According to Walton, although the Manute Bol dunk bounty started at $1200, it soon snowballed when the objective to dunk on Bol proved more demanding than the Celtics players originally thought.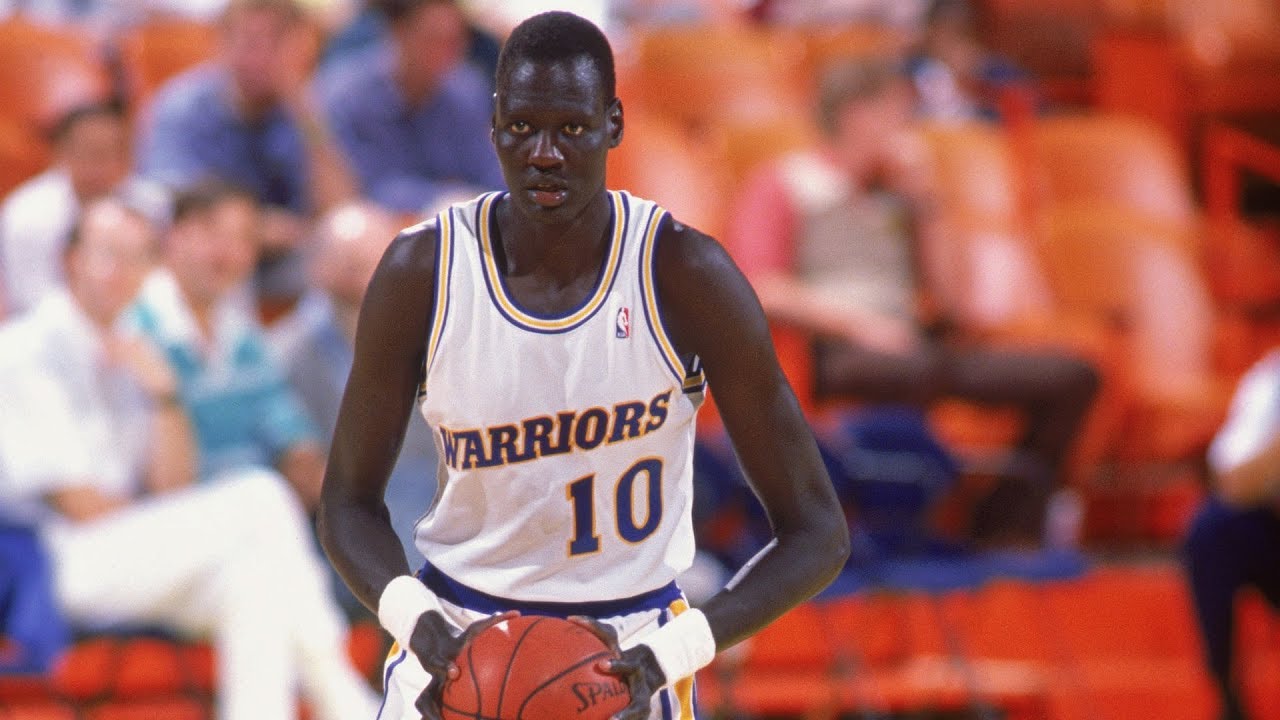 Larry announced that we were going to roll it over and keep it rolling over until somebody did successfully throw one down on the big guy," Walton continued. "And that each game would require another $100 contribution per man from our entire Celtic squad of twelve guys until it happened."
Walton added that although Kevin McHale was the most eager to dunk on Bol, the funniest instance of the Manute Bol dunk bounty in action came from Bird himself.
"Later, I came up with a defensive rebound and threw a long outlet pass to Larry, who was all alone at half-court, on the left side. There was nobody between Larry and our goal. But instead of driving in and making an uncontested layup, Larry stops, cradles the ball on his hip with his left arm, and points at Manute, who is still down at his own basket and completely out of the play.
"Larry is waving frantically for Manute to hurry back on defense so that Larry can go in and try to dunk on him. Manute was clueless to our little game within the game, but he dutifully hustled back, and when Larry came flying in, Manute sent him and the ball back one more time."
In the end, it was 7'1″ Celtics center Robert "The Chief" Parish who was the first Celtics player to dunk on Bol, and won the jackpot of what Walton says was "a very large sum of money."
According to Walton, it was memories such as the Manute Bol dunk bounty which truly made his time on the championship Celtics team indelible.
"Larry's wager on Manute epitomized some of the brilliant things about that Celtics team," Walton said. "In every game, Larry found a way to make it endlessly interesting and entertaining for us as his teammates, and for everyone in the crowd watching. And when he was in the building, all eyes were definitely on him."
What do you think of the story of Larry Bird and the Manute Bol dunk bounty? Is it stories like this that make the 1986 Boston Celtics championship team and the legendary Larry Bird truly unique in the annals of NBA history? Let us know in the comments.