WWE Hall of Famer Booker T's appearance in the 2023 Men's Royal Rumble was perhaps the event's most nostalgic surprise, but the six-time world champion says that unfortunately, his in-ring work at the Alamodome in San Antonio, Texas was a clue that he should likely hang up his boots for good at this point in his life.
"I'm done this time, I'm serious, man. This Rumble, it let me know," Booker T said on the latest installment of his Hall of Fame podcast. "You know, like I said, the adrenaline that I got out of it, the rush, what a rush it was. You don't get tired of that, it never gets old; that never gets old. But the old body does. The old bod, you can't push yourself too hard like that."
When NXT #VengeanceDay is only 1️⃣ day away…@BookerT5x #WWENXT #RoyalRumble pic.twitter.com/7TAUqNUStB

— WWE NXT (@WWENXT) February 3, 2023
Booker T entered the Rumble as the twenty-first entrant hit the ring and hit a few of his trademark hook kicks before dropping down to the mat to perform his crowd-favorite Spinaroonie. While he didn't make any overt mistakes during his appearance in 2023 Royal Rumble, he conceded that pro wrestling is a "young man's game" and that an athlete needs to listen to their body.
"A man's gotta know his limitations," Booker T continued. "And just making that walk that I had to make at the Alamodome, let me know that I don't need to be nowhere near that ring. I appreciate you guys… but that's a young man's game."
Booker divulged how his 2023 Royal Rumble appearance came about on the previous episode of his HOF podcast, explaining that the invite came at the very last minute while he was sitting at the analyst's table for the Royal Rumble kickoff show; whether by stroke of luck or a testament to Booker's impressive preparatory skills, the 57-year-old had his in-ring gear on hand.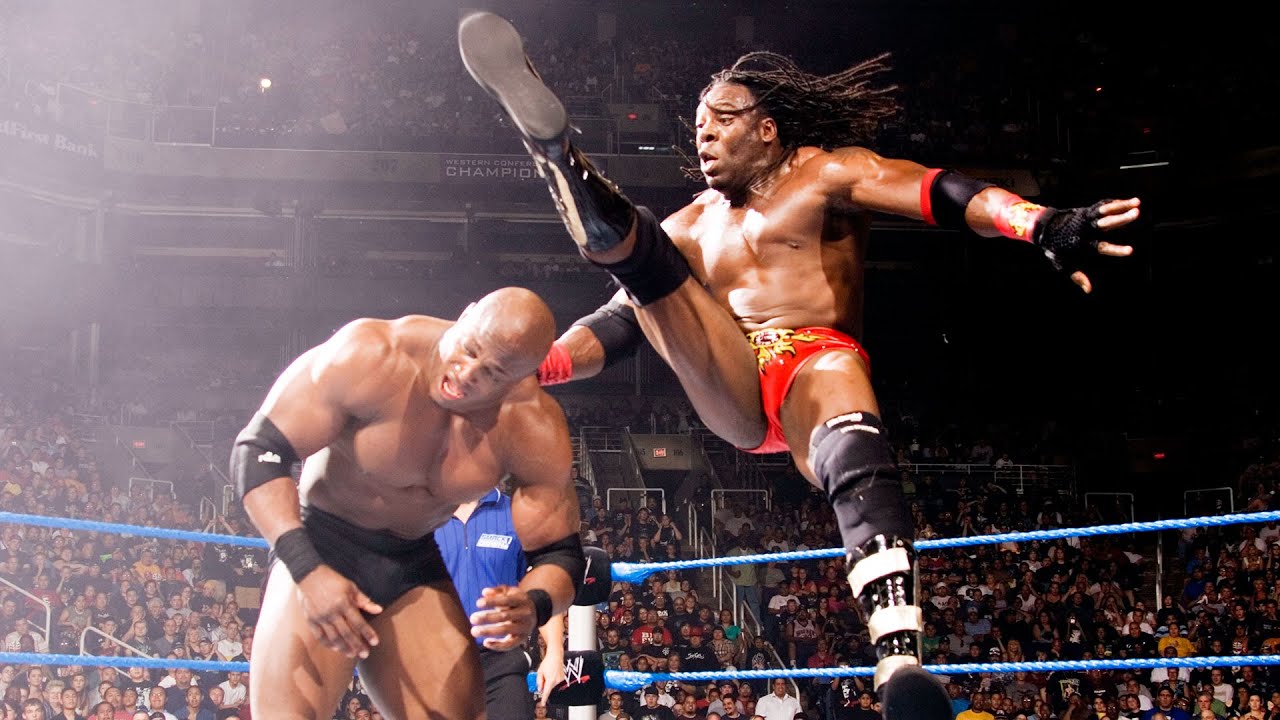 "I was sitting at the table at the kickoff show," Booker explained, "and I got a text message. It was the invite telling me, 'Book, you're in the Rumble.' … Something told me to bring your gear. Make sure you are ready just so you don't have to get ready. Stay ready, and boom, there it was. The text message came through, and I said, 'Okay, here we go'. I think Rey (Mysterio) went down and I think they had to fill that spot."
What did you think of Booker T's appearance at the 2023 Royal Rumble? Do you agree with Booker T on the possibility of a match at Wrestlemania 39 being a bad idea? Let us know what you think in the comments.