Joe Rogan doesn't want Francis Ngannou's recent departure from the UFC into free agency completely nullify his chances of fighting in the Octagon ever again. The UFC color commentator and successful podcaster expressed his sentiments on Ngannou only a few short weeks ago when he hosted UFC fighter Belal Muhammad on "The Joe Rogan Experience," stating that he was "bummed out" that Ngannou's next fight wouldn't be in the UFC. Rogan is still holding out hope that after Ngannou cashes out in a high-profile boxing match, however, that he'll turn back to the UFC to test his mettle against whoever becomes the newly-crowned heavyweight champion in his absence.
"The perfect world is, [Francis Ngannou] goes over, has some big money, heavyweight boxing fight, Jon Jones and Ciryl Gane have a fight, Jon wins, Ciryl wins, whoever wins is the UFC champ, and then Francis comes back," Rogan explained to fellow UFC commentator Paul Felder on the latest episode of his "Joe Rogan Experience MMA" podcast.
"He can totally come back – Francis if you're listening, sir, please don't sign an exclusive contract," Rogan added.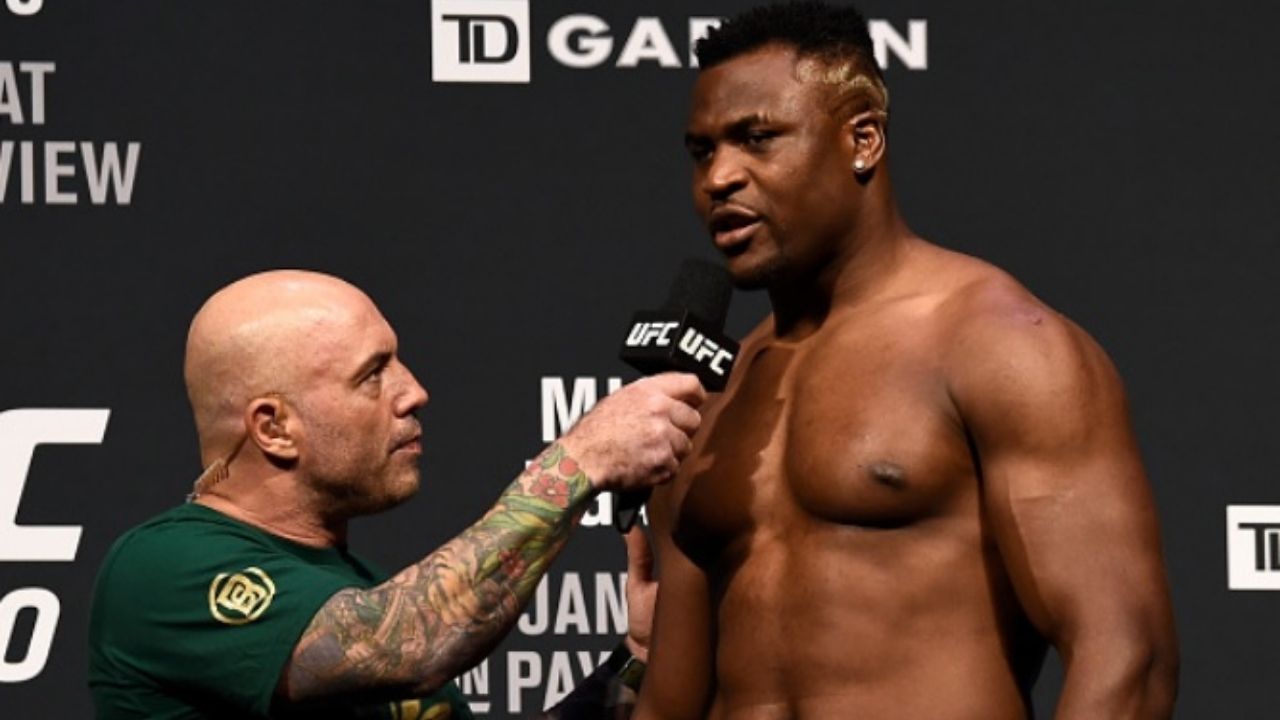 While it's still unclear exactly what Ngannou will do concerning his next fight, there has been plenty of interest in the 6'4″, 258-pounder, who was on a 6-fight-winning streak (including one UFC heavyweight title defense against Ciryl Gane at UFC 270, Ngannou's last fight in the UFC) before being forced to relinquish the UFC heavyweight title after he and the UFC were unable to reach new contract negotiations. Whether the path Ngannou chooses includes going to Bellator, which Bellator CEO Scott Coker thinks would be the perfect destination for Ngannou, considering its close ties to Showtime Boxing or a big payday boxing match with Tyson Fury or Anthony Joshua, Rogan still thinks that Ngannou should be free to choose for himself — although he doesn't like Ngannou's chances in the boxing ring with an opponent like Fury or Joshua.
"Who knows if someone comes along and offers him a ton of money," Rogan said. "Look, I mean, if someone says, 'Hey, I'll give you $100 million,' whatever you say. OK, what I gotta do fight, Jake Paul, what do I have to do? If they're gonna offer him big money…but I think they're trying to do a Tyson Fury fight."
Rogan added, "Francis Ngannou could knock out any human being on earth if he can hit them clean on the chin," Rogan said. "But good luck hitting Tyson Fury clean on the chin."
What do you think of the fact that Joe Rogan really wants Francis Ngannou to fight the winner of Jon Jones vs. Ciryl Gane after pursuing boxing? Do you think Ngannou should get a big check payday and then return to the UFC or does Ngannou's problems with the UFC clash with his principles too much at this point? Let us know what you think in the comments.